Make Your Apartment a Home in Anthem's A2 Community!
Nov 29, 2018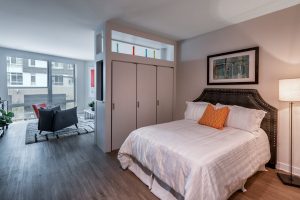 Join us in our newly-expanded A2 community, located across the street from Anthem House, and customize your living space with personal touches! It's the perfect opportunity to turn a blank slate into your own abode. Create a place that's both relaxing and comforting after a long day of work, but also inviting and friendly to host family and friends for dinner.
Our apartment offerings allow residents to channel their creativity, and with home furnishing retailers in the Baltimore area, the sky's the limit! Shop small with local retailers or explore the Internet for the perfect home furnishings to make the most of your space.
Support Local Businesses
MiY Home
Baltimore has a bounty of retailers with plenty of options for shopping. Head over to MiY Home on Eastern Ave for personal assistance with your apartment and interior design needs. Its founders are well-versed in the furniture industry and focus on providing customers with well-made, affordable, and customizable options for their homes. Shop for any fixture, furniture piece, lighting installation, or accessory at
MiY Home
!
Su Casa
Su Casa Furniture is all about "your house." They carry a multitude of styles, ranging from classic, hand-carved solid wood to sleek materials. You can find both classic or modern furniture at Su Casa located in the heart of Fells Point. They are customer-driven with expertise in their design services and free white glove delivery!
Design Distillery
If you're looking for something a bit more edgy, look no further than
Design Distillery
, located on Key Highway, right around the corner from Anthem House! Their unconventional, high-quality, and durable collection of pieces is sure to delight and inspire.
Heading to the Web
Sometimes delving into the Internet to find a piece that works best for your living space can be tricky; figuring out what will fit and be the most aesthetically-pleasing can be a toss-up.
Lulu and Georgia
Lulu and Georgia
hones in on the latest interior design and focuses on accessibility as well as the latest trends. Its founder is focused on staying ahead of trends, while helping their customers make their houses homes. Named after the founder's father and grandfather, the company's pieces are homey, inviting, and pleasing to the eye. Shop their rugs, pillows and décor, lighting fixtures, and kids collection.
West Elm
West Elm
is a great resource for those who love clean, modern lines with a touch of sophistication. Their new Harbor Point location makes it easy to go see products in-person and get inspired to decorate.
Crate & Barrel
With everything from couches to silverware,
Crate & Barrel
offers a myriad of staples to turn your apartment into a home.
Ikea
Ikea can help you make the most of your space with a variety of different furniture options that also allow for hidden storage. Make the space yours with accent pieces such decorative art, rugs, or pattern throw blankets! Head over to
Ikea.com
to find your ideal pieces at ideal prices.
Tricks and Tips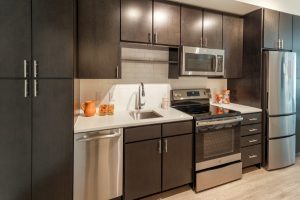 To create a larger and more spacious feel within your kitchen, install wall and ceiling storage to hang up pots, pans, and other utensils. Not only will you save space, but also have what you need ready to immediate use while cooking.
For more storage options, retailers such as IKEA offer stylish wicker baskets in which you can store blankets, pillows, or loose living room items or children's toys. If you're a phytophile (lover of plants), try a vertical rack or
storage
unit for your green friends: plants liven up a space, and a trendy storage unit will impress your friends and family!
Utilizing Your Space
Once your apartment is decked out and decorated to your liking, share pictures with us via social media, @AnthemHouseApts! We'd love to see how you Live Your Anthem and how you make your space a home, regardless of size!
Tags