Live Your Anthem at A2!
Aug 30, 2018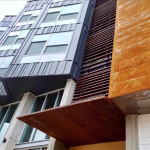 Did you know we've expanded? Now, you can also live your Anthem at A2, our most recent creation in the Anthem House community. Located just across the street from the Anthem House you know and love, A2 features a total of 52 apartments with a variety of studio and two bedroom floor plans. Additionally, 2 renovated row homes on Fort Avenue will be available upon their completion late this fall.
Optimal Surroundings
Designed by
David Baker Architects
of San Francisco, the goal of A2 is to enable and support engagement, connection, and walkability of the area surrounding Lawrence Street in order to create an active, vibrant and thriving community.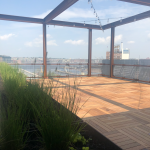 The outdoor area surrounding A2 will be designed by Baltimore's very own
Mahan Rykiel
, the masterminds behind Anthem House, the Sagamore Pendry hotel and other community favorites. On-site retailers on the ground floor of A2 have yet to be named, but we can promise that you won't be disappointed. Bright and inviting colors of greens, blues and yellows adorn the interior, in addition to custom hand-painted graphics, creating a chic and modern environment for residents to enjoy. Additionally, a rooftop lounge with panoramic harbor views is sure to inspire and unite A2 residents. Best of all, A2 residents have access to all of the amazing
amenities
at Anthem House—rooftop pool and all! Smart, efficient apartments create an engaged community for those who appreciate value, but crave the luxury of convenience.
Move In Today!
The first group of A2 residents moved in on August 21st and the community is now leasing! If you want everything within reach, but want to be able to retreat to your sanctuary space, A2 is the place for you. Contact us to
schedule a tour
and start living your Anthem, the A2 way… today!
In Good Company
Already an Anthem House resident? What better way to live your Anthem than being near your friends? If you know someone that would be a good fit for the Anthem House or A2 community, simply tell them to mention your name during their initial tour—you'll receive a $250 resident referral fee should they decide to lease, and get to hang out poolside with your bestie! What could be better?
Contact us
to learn more.
Tags