A Night to Remember: Anthem House's Grand Opening Celebration
Aug 22, 2017
Anthem House celebrated its grand opening in Locust Point with a party to remember. Baltimore's local flavor was woven throughout the event, highlighting local Baltimore businesses, history, and culture. With live music, local food and drinks, and inspiring speeches, the event embodied the true spirit of Anthem House: celebrating the creativity, drive, and uniqueness of the people of Baltimore and the city itself.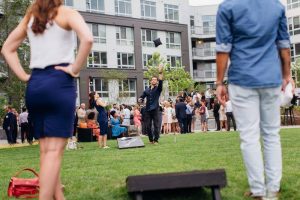 Photo credit: Allison Zaucha
Upon entering Anthem House, guests were greeted with a live jazz band, the Paul Soroka Trio, and escorted upstairs to the pool deck, where cocktails were served. The Fort McHenry Fife and Drum Corps opened the evening with a rousing performance. They were followed by speeches from Mayor Catherine Pugh, Toby Bozzuto, Tom Bozzuto, and Jeff Kayce from The Bozzuto Group, Jeff Jacobson from Solstice Partners, and Scott Plank from War Horse Cities, who spoke about what it means to build a community, why Baltimore is an amazing city, and how Anthem House will foster a space for Baltimoreans to work, live, create, and improve the city.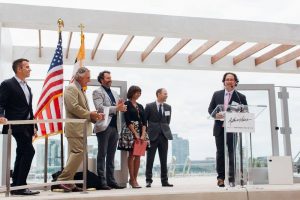 (Pictured: Toby Bozzuto from The Bozzuto Group addresses the guests on the creation of Anthem House. Left to right is Jeff Jacobson from Solstice Partners, Tom Bozzuto from The Bozzuto Group, Scott Plank from War Horse Cities, Mayor Catherine Pugh, and Jeff Kayce from The Bozzuto Group. Photo credit: Allison Zaucha)
After the speeches, guests explored the stunning apartment community, experiencing many of Anthem House's incredible features. Guests toured the fitness center, which was designed by FX studios and includes a newly furnished weight and cardio room, along with a turf-floored open studio that looks out over the pool deck. While walking through two models, guests enjoyed a Sagamore Spirits rye tasting and champagne infused popsicles from Picnic Pops. Amber, Anthem House's newest lobby restaurant which will open soon, offered tastings of a kombucha cocktail, craft beer, and nitro coffee. Copper Kitchen catered an array of Baltimore-themed hor d'oeuvres, including mini crab cakes, local cheese and charcuterie, oysters, a slider bar, a "donut door"—a display of multiple flavored donuts hanging on pegs from a detached apartment door—and much more.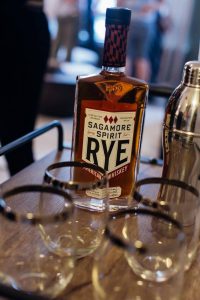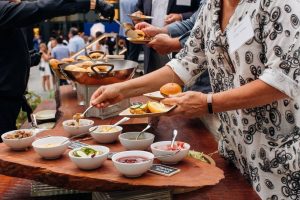 Photo credit: Allison Zaucha
Throughout the evening, guests marveled at the beautiful views of the Baltimore harbor and the city from the 3rd floor pool deck and the 4th floor lawn area, particularly as the sun began to set. Out on the lawn, Pressing Strings provided delightful live music for guests while they played oversized lawn games such as cornhole, Connect Four, and Jenga. A photo booth on the upper lawn provided everyone with fun, lasting memories of the night. Guests enjoyed taking their own photos as well and posting them on social media, from which they were curated into a #liveyouranthem slideshow that played throughout the night.
For Anthem House, inspiring everyone to live their anthem is a constant aim. By bringing so many Baltimoreans together to celebrate the grand opening, Anthem House proved that it is fostering a community that is energized, creative, and completely unique--one that makes its own rules and lives by its own anthem.
Tags