It's Ravens Season! The 3 Best Ways to Catch the Game
Aug 30, 2017
The start of what Baltimoreans love best is upon us! With NFL preseason coming to an end and purple pride in full swing, there are plenty ways to enjoy the game even if you don't have tickets. Here are three local options to catch the Raven's games, so grab your purple and get ready for some football!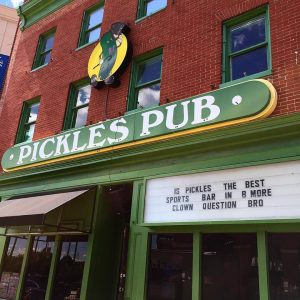 (Photo from Pickles Pub on Facebook)
Game day revelry at Pickles Pub is a long standing tradition for many Baltimoreans. Pickles is one of the best bars to watch your favorite games, and cheering on the Ravens is no exception. Pickles Pub has a menu perfect for mid-game meals and snacks including: burgers, fries, sandwiches, and plenty of Natty Boh to quench your thirst well into the fourth quarter. A fan favorite is the Raven's Dog: a hot dog topped with peanut butter, cream cheese, and grape jelly. Raven's fans from all walks of life can be found at Pickles Pub on game days, and it's the perfect game viewing stop. Have you tried the Raven's Dog? Let us know your thoughts!
Located at: 520 Washington Blvd Baltimore, MD 21230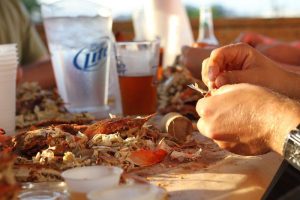 (Photo from L.P. Steamer's Facebook)
Ravens, crabs, and plenty of brews to choose from? Yes, please! Late summer is the perfect time to indulge in Maryland Blue Crabs. Order a dozen (don't forget the Old Bay) and pick to your heart's desire while watching the boys in purple dominate on the field. L.P Steamers is conveniently located on Ford Avenue just a jump, skip, and hop away from Anthem House's front door! While they have crabs year round for customers to enjoy, there's nothing quite like getting your hands dirty, enjoying the company of friends, and rooting on your favorite team in the heart of Baltimore's Locust Point neighborhood.
Located at: 1100 E Fort Ave. Baltimore, MD 21230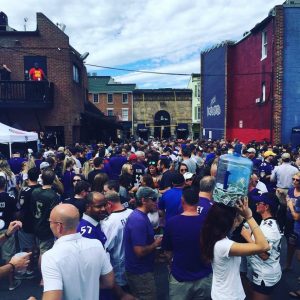 (Photo from Mother's Federal Hill Grille on Facebook)
Located just a few blocks away from M&T Bank stadium in Federal Hill, Mother's Grille transforms its parking lot into the Purple Patio. Whether you're new to town, or a long-time fan, is the perfect place to enjoy the Raven's game alongside a sea of other fans sporting their purple. TVs on the inside allow you to keep up with every play, and a live DJ spins crowd favorites to ensure the tailgate never stops. There are two additional bars set up on the patio serving up all your Baltimore favorites, and an outdoor grill making it a one-stop-shop for those without tickets. Federal Hill is just a short ride from Anthem House and Mother's Grille is a tried and true favorite for your purple game day.
Located at: 1113 S Charles St Baltimore, MD 21230
Baltimore is full of city pride, and football season brings out the best of the best of Baltimore lovin'. Fans have waited all year for the Raven's return to M&T Bank, and August brings promise of another great football season in the city we love. Whether you are looking for an upbeat tailgate vibe like the one you'll find on Mother's Purple Patio, some classic Baltimore grub at Pickles Pub, or a traditional crab feast while enjoying the game at L.P Steamers, Baltimore truly has it all. Enjoying the games brings friends, family, and fans together once again for the best of Baltimore: it's game time, Raven's Nation!
Tags