Ally Vitale Brings Barre Method to Anthem House
Jul 27, 2017
Working out can be a daunting activity, but The Bar Method Baltimore owner, Ally Vitale, strives to make each of her classes an enjoyable experience. We chatted with Ally who told us about how The Bar Method is a perfect way to get in a good sweat, detach from daily life for an hour, and challenge your physical limits. Read on to learn more about Ally's passion for fitness and barre, and how she decided on Anthem House as her studio's location.
Tell us about yourself and your fitness background.
I grew up in California, went to college in Dallas (SMU--go Mustangs!) and began a career in marketing. I was always fairly active, from running and cheerleading in high school, to rowing crew in college, and running marathons in my mid 20s. I ultimately left corporate America and began teaching yoga, eventually running a small studio out of my house. I knew I wanted more, so, I worked at a barre studio and later obtained my pilates certification too.
What made you want to open a fitness studio?
The ability to combine my traditional corporate experience and my love for teaching and fitness really made opening a fitness studio an incredibly easy choice. The connections with our clients is truly what keeps me inspired and why I'm so passionate about what we do.
Why did you pick The Bar Method for your studio?
I could talk about The Bar Method all day (seriously, join me for coffee sometime, I can talk more!), and at the end of the day, the choice was simple: The Bar Method does barre the best. Barre is a ballet based group fitness workout that targets the entire body utilizing your own body weight, the ballet barre, and a few props and accessories to reshape, strengthen, and create long, lean muscles. The community, the level of training from the teachers, and, for me, the physical and mental changes this workout provides is the best.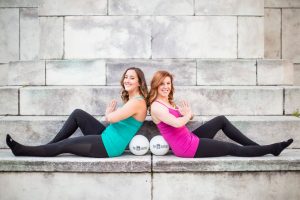 When will Bar Method be open and how much are classes?
We hope to open in mid September and we have a wide range of class packages, memberships, and price points. We also offer special rates to Anthem House residents! You can learn more here or by emailing [email protected].
What makes The Bar Method different from other workouts?
The community, the teachers, and the workout itself. We're guided by a top notch group of national trainers (they often visit us in Baltimore!) and a physical therapist who oversees everything we do--thus creating the safest, most effective barre workout!
What do you think makes a "great" workout?
The ability to shut off for an hour (or more!). We're all attached to our phones, our emails, social media, etc. The chance to just turn your brain off and push past your physical limits on that particular day--whatever those limits are--that's a great workout in my book.
How do you keep motivated to stay in shape?
I remind myself of how I feel when I'm active. Spoiler alert: I feel better! Being "in shape" is about how you feel in your skin. When I workout and eat well, I feel happier and stronger. I have to remind myself that it's about feeling that way--and then it's easier to wake up at 5:00am to workout. Ok, sometimes it's easier.
Why did you pick the Locust Point area and Anthem House to be the home of your studio?
We spent a lot of time searching for the perfect location, and are so glad that we have found just that in Anthem House! We wanted to find a location that would be relatively easy to get to for our clients, that had fun things nearby so the trip is worth it, that had enough space for our needs (did we mention we have showers!?), and had parking! When we learned about Anthem House and the idea behind the space, we knew we wanted in and that it was exactly the right synergy and the right home for us. Couple that with the ability to open a boutique barre studio in Locust Point--we were sold!
What are you most looking forward to about opening your own studio?
I'm excited to bring The Bar Method to a wider group of people and to grow our already amazing community. Seeing our clients succeed is why I do this, and I'm excited to see them grow and to meet many new faces as we help them achieve their wellness goals. Plus, I'm lucky enough to have the most amazing team and I am thrilled for them to teach in this new beautiful space!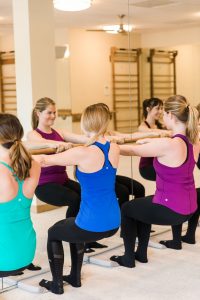 What would you tell residents about The Bar Method to make them want to try it out?
It's right downstairs--you have no excuse! But, seriously, The Bar Method is safe for everyone, we are a welcoming community of all sizes, shapes and ages, we believe in helping you create your best self and it's the best workout I've found. It's a fantastic workout all on its own, but, a great complement to cardio, lifting weights, yoga, as well. Come try us out--you won't be sorry! We can't wait to meet you.
What is your favorite part about the Locust Point community?
I love that everyone knows everyone and it's a true community. Everyone is truly invested in the neighborhood. Bonus for lots of fantastic little hidden gems of bars and restaurants! Baltimore amazes me in its ability to be a large city that truly retains a small town feel.
Can you share some of your workout secrets?
It's no secret, but, push ups and planks are your best friend. If you're in a time crunch and can't get in a true workout, hit the deck and crank out some push ups and a few planks--both exercises target all your major muscle groups and leave you feeling tired and powerful at the same time! If I absolutely can't make it to class, I make sure to do my push ups for the day. We do lots of pushups and planks in class! (don't be scared, it's fun!)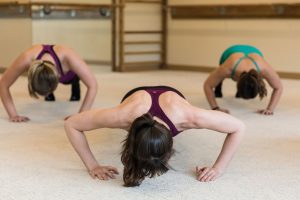 I know we've been focusing on the gym and working out....but what's your favorite Baltimore restaurant?
Woodberry Kitchen. First restaurant I ate at when my husband moved here and have been obsessed ever since.
What's your favorite thing to do in the summer in Baltimore?
Baltimore in the summer is the best, isn't it?! Hands down, favorite thing is to sit on our roof deck and enjoy dinner/drinks while watching the city and or chatting with our neighbors who are also our on their roof decks. Nothing better than catching a glimpse of the harbor after a long day. I'm also willing to set up shop at the Anthem House pool and see how that compares, ha!
Thanks Ally! We'll be sure to stop by and experience this great workout as well as welcoming, warm community firsthand. Have you tried Bar Method? Tell us about it! Follow and Like The Bar Method Baltimore on Facebook, Twitter, and Instagram! Stay current on everything they're up to and the latest classes on their website: http://baltimore-locustpoint.barmethod.com/.
Tags