YOUR 5 Favorite Locust Point Restaurants
Jul 17, 2017
Ask and you shall receive! After our last post about must-try restaurants, you shared with us some of your go-to picks in Locust Point. We wanted to feature your favorite places and here they are, the restaurants you're all raving about.
City Limits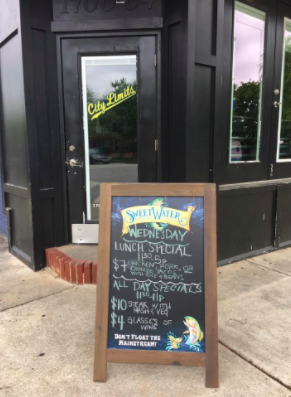 City Limits is the perfect neighborhood bar. Their friendly staff will make you feel right at home from the moment you walk in. The menu is pretty unique with a long list of quesadillas and tacos to choose from. Yelpers also recommend trying the wings. Their multiple HDTVs and projection screen make this pick a great place to hang out with new friends and neighbors any night of the week.
ADDRESS: 1700 E Fort Ave Baltimore, MD 21230
LP Steamers
You can walk right down the street from Anthem House for this one, and we promise you won't be disappointed. LP Steamers is known city wide as one of the best crab shacks in Baltimore. They serve crabs and other fresh seafood year round that you can enjoy with beautiful views of the harbor from their rooftop deck. Complete your crab dinner with $2 beers and hush puppies. You'll leave stuffed and already planning your next visit.
ADDRESS: 1100 E Fort Avenue Baltimore, MD 21230
Wiley Gunters
Boasting Locust Point's largest beer selection with over 100 to choose from, Wiley Gunters can deliver on both drinks and food. They call their food "upscale pub grub," their menu including everything from chicken tenders to seared ahi tuna. Their atmosphere is the perfect place to watch a game and their upstairs area has shuffleboard, darts and foosball. They also stay open late, 2am on most nights, so stop by to satisfy your late night cravings at Wiley Gunters.
ADDRESS: 823 E Fort Ave Baltimore, MD 21230
Hull Street Blues Cafe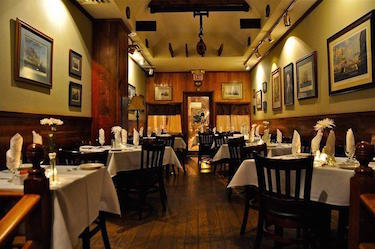 Hull Street Blues Cafe has our five favorite words: all you can eat brunch. Every Sunday from 10am to 2pm you can head to Hull Street Blues Cafe to enjoy a brunch buffet that changes weekly. During the week it gets even better; on Monday enjoy $5 burgers, Tuesday a $12 dollar entree special and half priced wine on Wednesday. The restaurant was once a saloon and has both a dining room and bar area for whatever atmosphere you're in the mood for. Local favorite menu items include fresh steamed shrimp and mussels.
ADDRESS: 1222 Hull Street Baltimore, MD 21230
Bar Liquorice
Bar Liquorice is a gorgeous little corner bar serving small plates, pressed sandwiches and unique cocktails right here in Locust Point. The decor is cozy giving the restaurant a homey vibe. Visitors from all over rave about the owner, Jeff, who is always around to talk and hand out candy bars. Monday nights are movie nights beginning at 8pm, and you don't want to miss the chance to get some popcorn and nutella bread pudding during the film.
ADDRESS: 801 E Fort Ave Baltimore MD, 21230
Still don't see your top choice? Share your favorite pick with us on Twitter, Instagram and Facebook, we'd love to go try it out. Also be sure to let us know if you try any of these picks, we want to hear all about it!
Tags