Meet Tosha Williams, Owner of Dessert Fantasies, Your FAVORITE Next Door Bakery
Jun 29, 2017
Sometimes we all just need something sweet. Lucky for you, Locust Point is home to Dessert Fantasies, a bakery with delicious cakes, cookies, and really any treat you could dream of. We recently got the chance to talk with the founder and owner of Dessert Fantasies, Tosha Williams, about all things cupcakes, housewarming parties and the Locust Point community.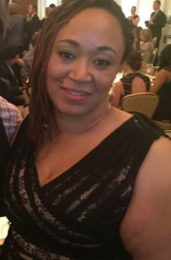 Tosha can't wait to see all of you around the community. She even made a special "Anthem House" cupcake recipe that you can use for your own housewarming party. Read on for more, and be sure to visit Tosha yourself at Dessert Fantasies, located at 1433 Fort Avenue, Baltimore, MD 21230. Tell us about yourself and about Dessert Fantasies. I've been baking since 2006. I left my job in retail and decided to stay home with my kids for a little while. Baking was just something that started out of my free time that I had at home with the kids, and it transpired into a business a few years later. It actually didn't start with cupcakes, but with actual pound cakes I was making, and that was my inspiration. I love a great, moist, southern pound cake, and so that is what I was trying to find. Then over time, once it turned into a business, people started to ask for cupcakes, as they were becoming the big trend. Dessert Fantasies is a great name. How did you come up with it? Originally when I started out I actually worked more with fruit, so I enjoyed carving fruit and making fruit displays. The cakes were just a small portion of what I would actually do, back then it was Fruit Fantasies and Cakes. Once I opened the bakery in 2012 I quickly found that the fruit didn't sell as well in the shop, but it sold well for catering and events. I then changed the name to Dessert Fantasies. Did you always know you wanted to work in the bakery business? I think I did. As a kid my dad would take us after school to buy a treat from a local store. They had a small grocery section, and at least once a week I would ask if I could buy a box of cake mix or cookie mix to play with and bake. I would also always watch my family bake. Honestly, I thought I would open an ice cream shop. I always wanted an old-fashioned ice cream shop. But I did like to play in the kitchen and bake, so the baking just kind of happened naturally. Like I said it was something I was doing as a hobby, turned into a business and quickly realized I had a passion for it. How and when did Dessert Fantasies get started? We opened the shop in Baltimore in 2012, so it's been five years. Prior to that I baked as a hobby at home starting in 2006. What differentiates a good cupcake from a great cupcake? A great cupcake from a good cupcake starts with quality ingredients. I make sure that we use the best quality ingredients as well as sourcing local ingredients when available, such as farm fresh eggs and local produce from around Baltimore. I like to go out to the farm and pick my own strawberries when it's available. And then it's just ensuring that the process is kept small. I mix my batters in small batches in order to make sure that we can maintain quality. Everything on your website looks delicious, do you have any favorites? My favorite I would say would be my caramel cake. It's one of my number one sellers. I actually have two [best sellers], the salted caramel and the Bmore cookie, which feature the berger cookies that are made right here in Baltimore.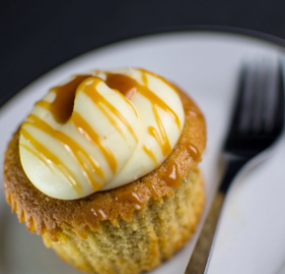 What is your process for creating new recipes? The funny thing is that most of my new recipes come from requests from customers. When I first started out I maybe had seven flavors. Then they gradually grew from either a customer's request or looking around at extra things I had in a kitchen. If I have, say, vanilla cake I can throw in jimmies and make it a birthday cake. Or we make a caramel frappe cupcake, and that comes from the caramel batter and we add in espresso chips and fill it. So just looking around at extra ingredients that you can use in multiple applications is really how I come up with a lot of new product. Why did you pick the Locust Point area of Baltimore for your store? My sister told me about the location, it was previously owned as a cupcake shop and she wanted me to go check it out. This was when I was still at home, but I never got the chance to visit that shop while it was still in business. One day we were having lunch in the area and she said, "hey that shop is closed but maybe you should check it out." I did, and it just went from there. At the time I really had been looking at the idea of moving to a shop because I was outgrowing my kitchen at home. I wanted to be able to cater and offer my product to the corporate world as well. As a local, how does Anthem House's opening affect the community? I think it'll affect the Locust Point area in a great way. Bringing in new residents to the area obviously will support the businesses and the small businesses and the community. It will bring fresh new faces and ideas. I'm sure it will also help the workforce in the area. It also is a beautiful building so it is something great to look at as you ride along Fort Avenue. What advice would you give Anthem House's new residents about Locust Point? I love the Locust Point community here in Baltimore because it is a great community. There are a lot of dogs in the area and people know each other by the dogs even if they don't know each other by name. That's how I know a lot of people that walk by. It's a great neighborhood; it's very active. There are always people walking or jogging down the street. So be cautious of the pedestrians jogging by. What kind of desserts should someone serve at a housewarming party? For a housewarming party I would suggest small portions. Of course my first choice is cupcakes, but you could also do mini cheesecakes or cookies. I really like little parfaits. Sometimes we make a parfait with our cake, fresh cream and berries. That's really nice for a housewarming party because guests can pick it up and walk around and mingle with their desserts. What's the best drink to have alongside your pastries? Especially this time of year, I like a nice iced coffee to go along with my desserts. That usually really pairs well. A nice caramel frap if you want a frozen drink or a latte is usually really good. Tell us about the recipe you created for Anthem House. How did you come up with it? Any advice for decorating? I wanted to start with something that would be really easy for even the non-baker to create. Sometimes people want to make their own desserts and maybe they're not necessarily cooks. I wanted to do a vanilla cake that you could add to and create your own in a sense. It's a vanilla cake, scratch recipe using fresh butter and eggs. We topped it with a buttercream frosting and garnished with fresh fruits. You could always add toppings into the batter, sometimes I like to cut and add fresh blueberries into the cake and then just do frosting on top. I wanted something quick and easy that you could make your own. You could also do a candy pearl on top to match the décor of your housewarming party. These could also look great for Fourth of July or a summer picnic when decorated with fresh fruit. They would also be great for by the pool. What three menu items would you tell Anthem House residents they have to come in and try? Number one is our berger cookie cupcake. That one is our cream cheese cake with berger cookie pieces baked into it. The berger cookies are from Baltimore. I don't know if all the residents are familiar with berger cookies since they could be moving from out of state so that would be great to try. Our salted caramel is my second pick, and lastly of course a scoop of ice cream.
Is it OK to have cupcakes for breakfast? For lunch? For dinner? You can have cupcakes anytime. We actually make a couple of breakfast-flavored cupcakes. We rotate them in and out, but we do a blueberry French toast. We also do a maple and bacon French toast. From time to time we'll do cereal cupcakes, so with Fruit Loops or Rice Crispy in them. Those would be fun for breakfast with a cup of coffee or your favorite morning drink.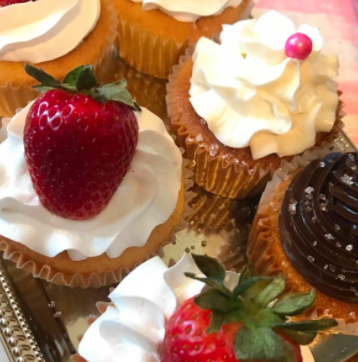 Dessert Fantasies ANTHEM HOUSE Cupcake Recipe INGREDIENTS: For Cupcakes: 2 3/4 cups cake flour,sifted 1 /4 tsp baking powder 1/2 tsp baking soda 1/2 tsp salt 1 cup (2 sticks) unsalted butter, softened 2 cups sugar, plus 2 tablespoons 4 large eggs, at room temperature 1 1/4 tsp pure vanilla flavor 1 1/4 cup whole milk For Butter Cream Frosting: 1 cup (2 sticks ) unsalted butter 1/4 cup whole milk, add 2 tbs if needed 2 tsp pure vanilla flavor 7-8 cups confectioner's sugar
For Cupcakes:
Preheat oven to 350 degrees F. Line 2 cupcake pans with standard cupcake baking cups/liners In a medium bowl, combine flours. Set aside In a large bowl add butter and sugar, cream until smooth on the medium setting. About 2 minutes. Add the eggs, 1 at a time until fully incorporated. Add the vanilla Add the flour mixture about 1 cup at a time alternating with the milk. Mix until all ingredients are incorporated. Scrape the bowl with a rubber spatula blend again to make sure all ingredients a well mixed. Spoon or use an ice cream scoop to fill each baking liner about 2/3 cups of batter in each baking liner. Bake for about 25 minutes, the cupcakes are done when a toothpick inserted into the center of the cupcake comes out clean. Let the cupcakes rest in the pans for 5 minutes then remove from the pans and cool on a baking sheet in the fridge for about 20 minutes before frosting.
For Vanilla Frosting:
In a large mixing bowl add butter, 3 cups sugar vanilla and milk. Mix on medium speed until creamy. Add the remaining sugar 1 cup at a time until the icing holds a peak. Gel food coloring may be added, add a few drops until desired Color is achieved. Frosting can be stored in the fridge for 1 week.
Garnish:
Garnish with fresh seasonal berries or candy pearl, optional. Fun fact, residents can also add a sprig of fresh mint to their cupcake creation for garnish, which they can pick fresh from Dessert Fantasies' curbside garden.
Our mouths are watering just reading this. If you give Tosha's recipe a try, or stop by her shop to sample all her sweet treats, be sure to share pictures with us on Facebook, Instagram and Twitter, all linked below. Happy Housewarming! P.S. Follow Tosha on Instagram, @
dessertfantasies
, to see more mouth-watering images like the ones featured here.
Tags