Meet Our New Property Manager: Jeff Long
May 15, 2019
For those of you who have lived here awhile, you've undoubtedly come into contact with our friendly Property Manager, Amy Nelson. Amy will be moving to our new property, Liberty Harbor East and her last day at Anthem House will be May 17, so be sure to wish her well. But, don't worry—she's leaving you in good hands!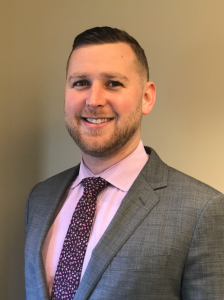 Meet Jeff Long, Anthem House's soon-to-be new property manager. Jeff has been with Bozzuto for nearly 10 years and is beyond excited to be transferring to Anthem House.
The Happiest of Hours
Meet Jeff in-person and say goodbye to Amy on Thursday, May 16 in the Club Room—we'll be hosting a happy hour with light refreshments, beer, and wine from 6-8pm. In the mean time, get to know Jeff by reading our interview below, and be sure to say, "hi" to him at the happy hour and once he officially starts on the 20th.
Where are you from?
West Chester, PA
Where did you go to school?
I went to Elizabethtown College which is a small located in Lancaster County, PA.
What are some of your favorite things to do in Baltimore?
My favorite things to do in Baltimore is visit the Aquarium and Port Discovery with my 3 year old son and wife!
What are you most excited about in coming to Anthem House?
I am most excited about being part of an a great community that has a lot of new and exciting things happening in the upcoming months like Limoncello and Pure Raw Juice opening.
What are your hobbies?
I like to spend my free time with my wife and son. When I am not with them, you can find me on the golf course, lacrosse field, or watching my hometown (Philadelphia) sports teams.
If you could travel anywhere in the world, where would you go and why?
This is a tough one—there are so many places on my wish list! If I had to pick one place to pack up and leave for tomorrow, I would choose chose Italy. I have never been and would love to see Rome and visit the island of Capri.
What's your favorite restaurant in Baltimore?
My favorite place to get a bite to eat is Nicks Fish House. I love sitting on the back deck and being right on the water.
What would be your "perfect" day?
My perfect day would start with a round of golf in the morning and finish on the beach with my family!
What is/are your favorite:
Book:
The 16th Round by Rubin "Hurricane" Carter
Movie:
Forrest Gump & Gladiator
Color:
Blue
Food:
Philly Cheesesteak
Animal:
Eagle
Sports Teams:
Philadelphia - Eagles, 76ers, Phillies, Flyers
How will you live your Anthem?
I will live my Anthem by being as involved in the community as possible! I plan to do that by communicating with community and connect with the residents and management team so we continue creating the best community possible!
Tags