Re[flex] Your Muscles @ Anthem House
Apr 29, 2019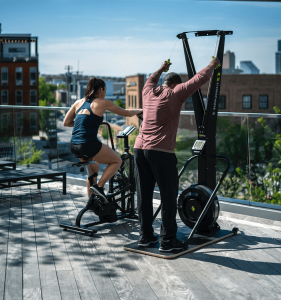 Just in time to get fit for summer, Anthem House is excited to bring your workouts to a whole new level with Reflex Functional Fitness. On May 1, we'll be starting a new partnership with Reflex, featuring a launch event at 5:00pm in the Fitness Center so you can learn more about their class offerings, services, and more. The first introductory class will begin at 7:00pm, so be prepared to sweat! Can't wait until May 1? Read our exclusive interview with Reflex Owner and Trainer, Reese Ashe:
What made you decide to start Reflex Fitness?
I've always known I wanted to open my own gym one day. I have been around sports and fitness since I was a kid and I've been coached by some of the best around. After working in the fitness industry for about 15 years, I realized I wanted more. I wanted to work for myself, take the risk of having a place I could call my own, and pour everything I had into it to try to make it work. It was time for me to take my vision, my style, and my philosophies and bring it to Baltimore. I always believed in my brand and we decided to take the leap and to put it to the test.
How long has Reflex Fitness been around?
We are in our fourth year. We opened in January 2015.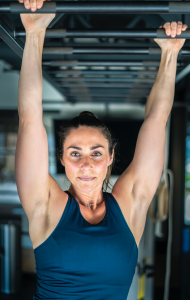 Tell us about your business partner.
My business partner is my wife Amanda, and she is definitely the boss! She's the brain and beauty of the operation. Amanda has been my #1 supporter from the start. We met in the gym where I trained and I was absolutely amazed by her athletic ability and work ethic. When I told her I wanted to become a personal trainer full-time, she encouraged me to do it. When I told her I wanted to own a gym, she encouraged me to do it. When she told me we were expecting our first child after Reflex had been open less than a year...that's when "The Boss" was born. Amanda ran the day-to-day like a well-oiled machine and made sure I was focused on building this business, this brand, and this community. Without her, there is no Reflex.
What is your fitness philosophy?
When it comes to motivating others, my philosophy is simple... Listen, learn, give your clients your best, and be willing to adapt and change! Put the time into each individual, build the community, and watch your team thrive!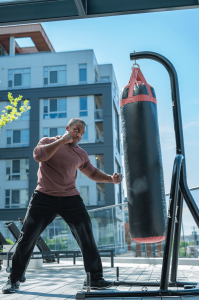 What types of classes will you be offering and what can Anthem House residents expect from your classes?
We will bring all things Reflex to Anthem House! HIIT classes, sculpt classes, we may even bring boxing and self defense classes. We have big plans and we are so excited to get started! Anthem House residents can expect one of Baltimore's best workouts and collaborations with some of the best studios this city has to offer!
Are all fitness levels welcome?
All fitness levels are welcome. Classes and exercises are designed so that you can work at your own pace, so you will get a great workout if you are a beginner or a seasoned vet.
What's your favorite kind of workout?
High Intensity Interval Training is by far my favorite kind of workout. You can incorporate HIIT in boxing, weight training, strength and conditioning...you name it! HIIT will get you fitter faster than your normal everyday workout!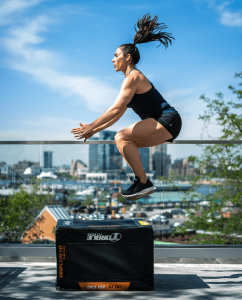 What are you most excited about for starting at Anthem House?
We are most excited about building a fitness community within Anthem House. Creating a community of like-minded people with similar goals and interests is one of the most important parts in achieving fitness goals. Built-in friendships, accountability, and support are a proven recipe for success.
If you could just give one piece of advice to someone starting their fitness journey, what would it be and why?
REMEMBER YOUR WHY! My advice is to remember why you started this journey. Is it to look better, feel better, be around and present for your kids, for your parents? Remember why you started and you will stay focused. Do it for you, not for anyone else. What's YOUR why?!
What happens when you say, "HIIT"?
Although Reese did provide us with an answer to this last question, we think it's probably best you take a class and find out for yourself!
We're beyond excited to welcome Reese and Amanda to Anthem House and can't wait to see you #liveyouranthem in the Fitness Center. Be sure to share your sweaty selfies with @reflexfunctionalfitness and @anthemhouseapts on Instagram!
Tags