Making Your Home Your Sanctuary
Feb 21, 2019
In the wise words of Marie Kondo, "the space in which we live should be for the person we are becoming now, not for the person we were in the past." Your home should be you sanctuary — an inviting and zen place to return to after a long day. Achieving a home that feels like a sanctuary doesn't require a move! There are lots of ways to bring peace, comfort and relaxing vibes into your space that will make you want to switch your next vacation to a staycation. Keep reading to find out how to make your place #apartmentgoals!
Accessorize
The key to any good outfit is in the accessories, and your living space is no different! A little effort goes a long way and small decor additions can make all the difference. Head over to
West Elm
(only a 12 minute drive from Anthem House) or check out some local boutique homeware shops, like
Trohv
, to pick up some comfy pillows and throw blankets for your couch, or a Himalayan sea salt lamp for your nightstand. What colors bring you peace? Greens and blues are known for being soothing, and adding some accents of your own favorite shade can add a personal touch.
Space Out
When life is so busy and we are constantly connected, it can feel harder than ever to take time out for yourself. But, even just a few minutes a day can reduce anxiety and stress and get your ready to conquer your to-do list. Meditation is an excellent way to help you breathe deep and be in the moment. The
Headspace app
is a popular tool for guided meditation, making it easy to learn how to practice mindfulness, right from your own living room!
Easy to Be Green
Adding plants and greenery can breathe new life into your space. Check out this
list
of the best houseplants for apartments, from Fiddle Leaf Figs to Philodendrons! Local shop
B. Willow
has a curated selection of plants to bring nature inside your home. They even host classes and events like a Succulent Building workshop. No green thumb? Fake plants are easier to maintain, but look just as beautiful!
Ikea
has a great selection of no-need-to-water greenery.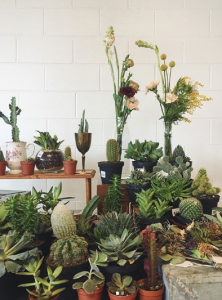 Take a Bath
One timeless way to unwind after a busy day is to take a relaxing hot bath. Anthem House apartments feature a tub, so light some candles and don your robe! For extra relaxation power, adding a bath bomb is a great way to make your own home feel like a spa. You can visit the
Lush
store in Harbor East for a large selection of deliciously-scented, ethically-made soaps. Treat yourself to a calming face mask or indulge in a new shampoo for the full spa experience.
Music
Add a little ambiance with some soothing tunes. There are tons of free playlists on Spotify, from "Pure Mellow Jazz" to "Spa Treatment," or even "Space-Themed Classical Music"! Whatever mood strikes your fancy, some soft background music can transform your home and help you feel at ease.
Keep it Clean
Studies show that a clean, tidy home can help your mind feel calmer, too. For advice on how to keep a clean space, check out Marie Kondo's best-selling book, "
The Life-Changing Magic of Tidying Up
." You can also watch her new television series, "Tidying Up with Marie Kondo" available on
Netflix
. Reducing clutter and minimizing mess is surefire way to make coming home feel like entering an oasis. Looking for more inspiration? Add some flair to your feeds by following lifestyle bloggers for other ideas on living your best life and making your apartment feel like home. We love Baltimore-based bloggers like
@30thandweldon
and
@sbcreative_
! Try any of these tips out for yourself? Share pictures with us at
@AnthemHouseApts
! There are lots of ways to
#LiveYourAnthem
, so let us know how you are making your living space your own personal sanctuary!
Tags