Jazz +Soju: Delight Your Senses, Just Around the Corner
Oct 25, 2018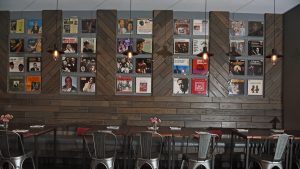 You've probably seen Jazz + Soju, but have you made time to stop in and check it out? This inviting Korean-American infusion restaurant was created for everyone to be able to have fun, enjoy a good meal, and imbibe. The walls are adorned with classic old school vinyl records of jazz artists, vintage style radios, and record players, creating an ambient, laid-back vibe.
If you're a first-timer, then trying the wings is an absolute must. They're double fried and made with your choice of soy garlic or spicy soy garlic sauce, making them big, bold, crispy, and juicy—unlike any other wing you've experienced before.
Jazz + Soju Always Makes It Special
With us being in the midst of football season, Jazz + Soju is offering a Ravens Sunday Game Day Special, featuring $20 buckets of beer, 30 wings with fries for $39, and 50 wings with fries for $59, so it's the perfect opportunity to give their delectable wings a try! If football isn't your thing, then there are plenty of other specials to enjoy throughout the week:
Monday
Industry Night- ½ off select drinks
Tuesday
Open MIC Night- Open to anyone who wants to sing or play jazz. Contact Jazz + Soju to register.
Wednesday
Wine Night- ½ off bottles of wine
Monday-Thursday
Free appetizer with purchase of two entrees OR $10 off your purchase of $50 or more, until 11/30, not valid on carry out
Take Comfort in Jazz + Soju
Aside from the wings, Jazz + Soju offers a variety of different Korean-American comfort classes. One of the most popular dishes is the Fire-Beef Bulgogi, which features thinly sliced beef marinated in their homemade sauce, over grilled vegetables and rice, topped with a fried egg—it's the ultimate comfort food. There are also plenty of lighter options, such as salads and sushi, so there really is something for everyone at Jazz + Soju. Check out the full menu here.
Do You Soju?
What better way to imbibe at Jazz + Soju than by trying the Soju! In case you didn't know, soju is Korea's national drink and is actually the world's most popular liquor. It's a lower alcohol by volume spirit that has a neutral taste like vodka, without the harsh alcohol burn. You can enjoy it straight, or mixed into one of the many delicious cocktails on the menu. Jazz + Soju offers a variety of different "Soju-Tinis," which are martinis made with soju instead of vodka, and fruit nectars. Can't decide on which flavor to order? There's a soju sampler that features their most popular flavors—lemon, strawberry, lychee, and aloe.
Jazz + Soju is so Good, It's Scary
Celebrate Halloween with Jazz + Soju on Sunday, October 28. The fun starts at 5pm and they'll be hosting a costume contest, so dress to impress! The winner receives a $100 Jazz + Soju gift card, so it'll give you an opportunity to try the extraordinary wings, sizzling beef, and unique martinis. Learn More.
Tags