Wondering About the Water Taxi?
Jun 1, 2018
Whether you're a long-time Baltimore resident, or just moved to the area, you've probably heard of the Baltimore Water Taxi (BWT), but have you ever taken it?
A Better Way to Commute
The BWT has recently undergone a lot of great changes. For Anthem House residents and neighbors, the most notable change is the addition of the Anthem House stop, number nine. The stop offers both Green (East) and Yellow (West) routes that make it easy to get around the city—what better way to avoid traffic than by boat?
Experience the Unexpected
Aside from being a convenient and enjoyable way to commute, the BWT is also offering
curated experiences
. One experience we think our residents and neighbors will particularly enjoy is the Whiskey Ride, which entails a trip to the Sagamore Pendry Hotel and the Sagamore Spirit Distillery. By taking the Green Route from Anthem House, you can quickly arrive at the Sagamore Pendry Hotel in Fells point. After enjoying cocktails in the Cannon Room, you'll be whisked away on a private water taxi to Port Covington, where you'll receive a tour of the Sagamore Spirit distillery, complete with tastings and a chocolate surprise!
Learn more about the Whiskey Ride
.
Float On
For locals looking to maximize their water taxi experience,
seasonal memberships
are offered for $250 a year, which includes unlimited use of the BWT for you and up to 3 children under the age of 12. Another great option for locals is the
One-Ways
package, which is good for 10 one-way trips for $40. And of course,
1-day
and
2-day
passes are available for purchase as well.
Try Before You Buy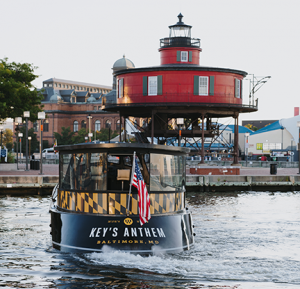 Do you want to try the water taxi before purchasing tickets? Then, you're in luck! The BWT is hosting an open house on
Thursday, June 21st
from 11am-8pm at locations throughout the harbor. The event is completely free for locals (must show Maryland ID) and in addition to the free rides, there will be special giveaways all day!
Learn more about the open house
. Whether you plan on using the BWT for you daily commute, heading to weekend plans, or enjoying curated experiences, we hope to see you at the open house!
Tags